History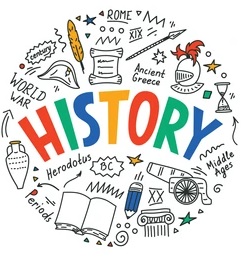 INTENT
At Maple Tree Primary School, history education aims to fulfil the requirements of the National Curriculum for history; providing a broad, balanced and differentiated curriculum; ensuring the progressive development of historical concepts, knowledge and skills; and for the children to develop a love for history. We aim to inspire in pupils a curiosity and fascination about history that will remain with them for the rest of their lives. A high-quality history education will help pupils gain a coherent knowledge and understanding of Britain's past and that of the wider world. History teaching has a wide application to everyday life, teaching the children to enjoy learning about the past and to have a better understanding of the society in which they live. At Maple Tree we provide a curriculum that is designed to enable our children to know about significant events in British history and to appreciate how things have changed over time and to develop a sense of chronology. The children will know and understand how the British system of democratic government has developed and, in so doing, to contribute to a child's citizenship education. History education will also provide the children to have knowledge and understanding of historical development in the wider world.
Please click the image below for our whole school overview in History.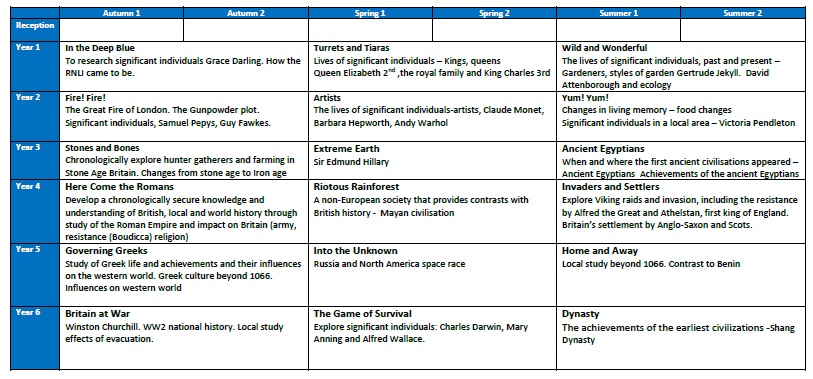 IMPLEMENTATION
To ensure high standards of teaching and learning in history, we implement a curriculum that is progressive throughout the whole school. History is taught as part of a termly topic, focusing on knowledge and skills stated in the National Curriculum. The termly topics begin with the use of a knowledge organiser to discover current knowledge and understanding before moving forward with the planned lessons as it encourages a more tailored approach depending on prior learning. Teachers plan lessons for their class using our progression of knowledge and skills document. The progression document ensures the curriculum is covered and the skills/knowledge taught is progressive from year group to year group.
When teaching history, the teachers follow the children's interests in the subject to ensure their learning is engaging, broad and balanced. History teaching focuses on enabling children to think critically and provides exploration of the subject. A variety of teaching approaches are used based on the teacher's judgement. History provides excellent opportunities to enhance the learning of pupils through the investigations, analysing sources and writing extending pieces.
Maple Tree provides a variety of opportunities for history learning inside and outside the classroom. Educational visits are an opportunity for the teachers to plan for additional history learning outside the classroom. We also include external companies such as 'History Off The Page' when planning and use their services to either start or complete a topic.
IMPACT
Our history curriculum offers high quality and well planned lessons which encourage progression. Continuity and progression in the curriculum is built around essential knowledge, understanding and key skills within History. These are broken into Year group expectations. Good historical questioning helps pupils to gain a coherent knowledge and understanding of Britain's past. Through our curriculum, pupils learn to think critically, ask perceptive questions and evaluate evidence. In order to ensure our aims have been met, we scrutinise topics through:
Assessing children's understanding of topic linked vocabulary before and after the unit is taught.
Interviewing the pupils about their learning (pupil voice).
Moderation where pupil's books are scrutinised and there is the opportunity for a dialogue between teachers to understand their class's work.
Sharing good practice in staff meetings.
Learning walks
Knowledge organisers
Humanities Programmes of Study:
https://www.gov.uk/government/publications/national-curriculum-in-england-geography-programmes-of-study
https://www.gov.uk/government/publications/national-curriculum-in-england-history-programmes-of-study
Please see the Curriculum overviews for each class on the Curriculum page.
Keep checking the website for pictures and stories about what the children are getting up to!