Holiday Club


School holidays
We have a Holiday Club which as you may have guessed runs throughout the school holidays! Holiday Club is not just for children who attend Maple Tree Primary School though. All children aged between 3 – 11yrs are welcome. It's a fantastic place to come and mix with new faces and make new friends.
School holiday sessions can be booked as follows:
8.00am - 1.00pm or 1.00 - 6.00pm £14.00
8.00am - 6.00pm £28.00
What activities do we do at Holiday Club?
No two days are ever the same here. Activities are well planned out and organised and the children who attend can't wait to come back and see what we are doing the next day. Healthy snacks are provided throughout the sessions and outdoor play is particularly encouraged.
We have wheeled toys, water and sand play. We have a huge playing field where children can let off steam and run around. We organise games such as hockey or football, and we make sure everyone gets to join in if they want to. Inside we have a TV where we can chill and watch age appropriate programmes. We've even got a Wii console! There are plenty of books to browse and a huge range of crafting activities from beading to junk modelling and everything in between. Some days we do cooking and baking – this always goes down well with the children. And of course, there are toys a plenty, from train sets to jigsaws, you can be assured your child will not be left bored at Kids Club.
In addition to planned activities, children will have access to a selection of games, play equipment, arts and craft resources with further opportunity to use the outdoor gym equipment, playgrounds, the computer suite and the Sports Hall.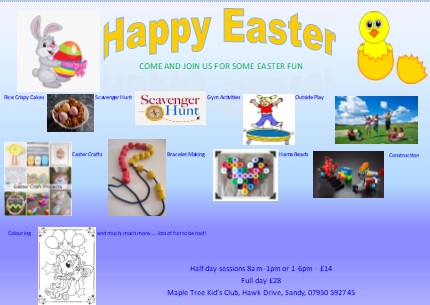 Do I need to book?
Yes. We need to know in advance how many children we have so that we can make sure we adhere to the strict adult to child ratio that we pride ourselves on. However, short notice slots may be available, so please do give us a call to find out how we can help you.
Do you accept childcare vouchers?
Yes.