Personal, Social, Health, Citizenship Education (PSHCE)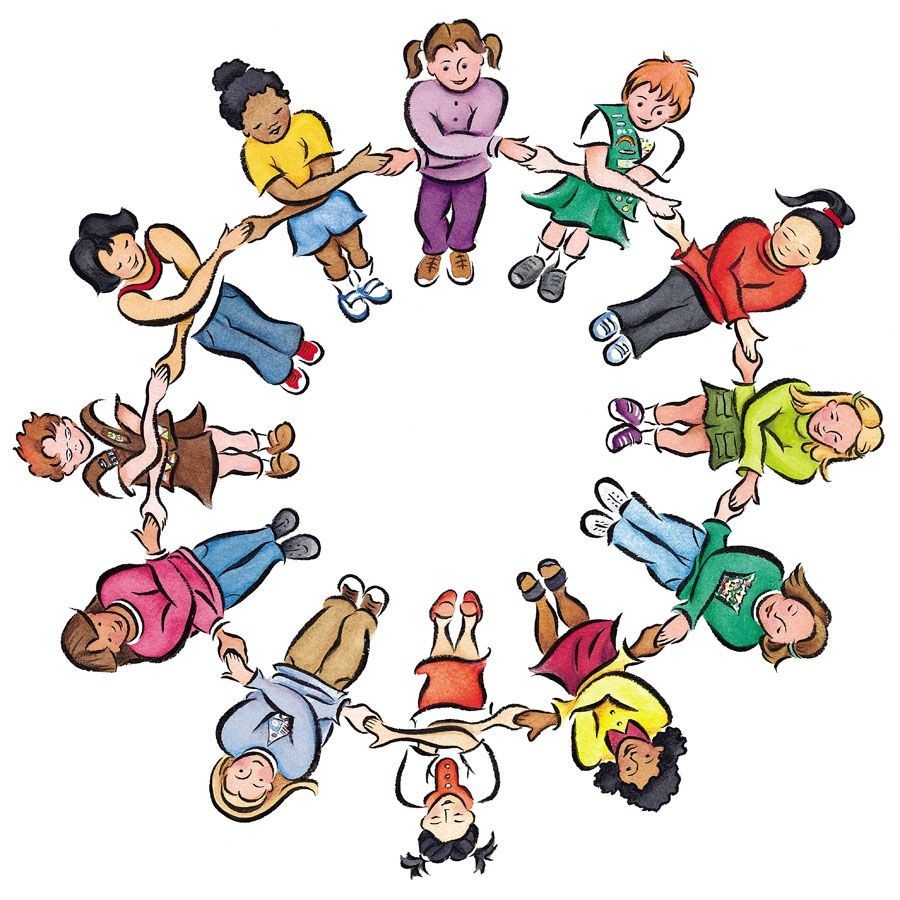 Personal, Social, Health, Citizenship Education (PSHCE)
INTENT
At Maple Tree Primary School, we see Personal, Social, Health, physical and mental, Citizenship and Economic (P.S.H.C.E.), Relationships and Health Education (R.H.E.), and Values Based Education at the base of all that we do in preparing pupils for the 21st century. P.S.H.C.E. and R.H.E. enables children to become healthy, secure, independent and responsible members of a diverse society.
Although P.S.H.C.E. is non-statutory, we see it as an important and necessary part of all pupils' learning. The promotion of pupils' personal development, (which includes their social development) is a fundamental aspect of education and underpins all other learning. Through our curriculum, school environment and Values based education, we promote pupils' self-esteem and emotional well-being and help them to form and maintain worthwhile and satisfying relationships, based on respect for themselves and for others, at home, at school, at work, in the community and for the future. At MTPS, we are developing a whole school approach towards the mental health of our pupils, staff and parents/carers, so that we promote and embed awareness within themselves and others. All children participate in P.S.H.C.E. learning, through topics, such as, Health and Wellbeing, Relationships and Living in the Wider World.
Please click the image below to see the whole school overview for PSHCE.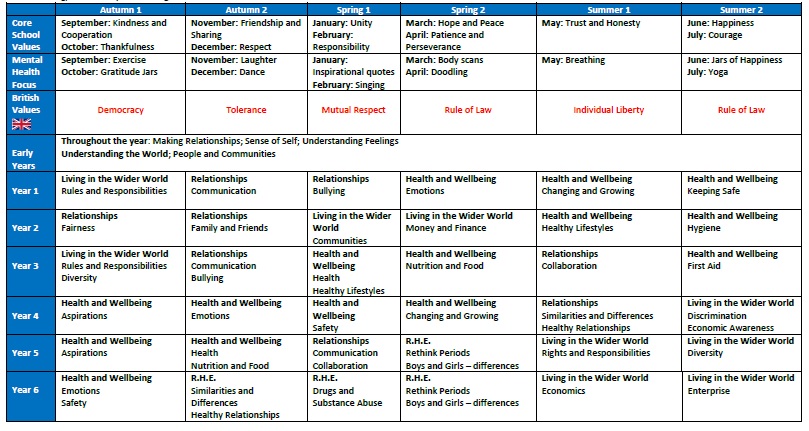 IMPLEMENTATION
We follow a scheme of learning from 3D Curriculum, and in Early Years Foundation we follow guidance from Birth to 5 Matters and the Development Matters Report, (non-statutory curriculum guidance for EYFS). Within each key stage children are taught the knowledge, skills and understanding based on three core themes: health (physical and mental) and wellbeing, relationships, and living in the wider world. Furthermore, children are taught essential knowledge, skills and understanding through learning about relationships and health within the R.H.E. curriculum. Each unit of work builds upon prior learning, ensuring connections are identified.
P.S.H.C.E. is taught weekly. This can be through discrete learning following our scheme of learning, or circle times that identify specific needs of each class. R.H.E. is taught throughout the year within our scheme of learning. Again, any needs of individual class may be identified and discussed within a circle time or with individual children as necessary. Values assemblies are held weekly, following identified specific values for each month. Values Based Education is at the foundations of our schools' ethos, and as such, adults and children alike observe all of our values on a daily basis. Over the year we make links to specific local, national and international events - for example - Anti-Bullying Week, Children's Mental Health Week and charitable events such as Children in Need. Children identified with mental health concerns are given additional tiered support in collaboration with teaching staff and parents/carers. Children gain a deeper understanding of skills being taught through high quality resources and key texts.
R.H.E. became statutory within the curriculum in September 2020 and we teach relationships through our P.S.H.C.E. curriculum. Children from EYFS to Year 6 learn about the differences in families and friendships. From Lower Key Stage 2, children begin to learn about puberty and how both boys and girls change. The topic of puberty and change is taught in mixed gender classes as we see it as fundamental that all children should understand the needs of each other. The needs of all, including those who identify as LGBTQ+ are supported and treated respectfully and sensitively. We teach children the knowledge they need to recognise and to report abuse, including emotional, physical and sexual abuse. Here we focus on boundaries and privacy, ensuring young people understand that they have rights over their own bodies. This includes understanding boundaries in friendships with peers and also in families and with others, in all contexts, including online.Staff pedagogy is carried out in a timely manner and is relevant to the needs of all. External agency advise is sought where necessary.
Through our positive behaviour system – Good to be Green – children are taught how to respect each other and their community. P.S.H.C.E. and R.H.E. play a vital part in supporting children to 'be green'. Children are rewarded weekly for positive behaviour.
At Maple Tree we understand the importance of adapting learning to meet the needs of all children, including those identified with SEND. We identify those that may need further support to follow the P.S.H.C.E./R.H.E. curriculum. Social stories and Sunshine Circles may be used to support learners for example.
We also encourage children from KS1 to UKS2 to take part in our active Pupil Parliament. Members are responsible for pupil voice from their peers on issues that affect them and the wider community. They take part in fund raising for their peers, and representatives take part in the yearly Remembrance Day Parade.
IMPACT
Our P.S.H.C.E. and R.H.E. curriculum is high quality, well thought out and is planned to demonstrate progression.
The children make progress by knowing more, remembering more and being able to do more. They need to transfer and embed key concepts into their long-term memory and apply them fluently.
Children will make at least good progress from their last point of assessment (see assessment policy).
We measure the impact of our curriculum in the following ways:
Children demonstrate a positive attitude towards their peers and others – there are fewer incidents of red cards and reported bullying.
Respect and tolerance of all – there are fewer incidents of racism or any form of discrimination.
They demonstrate respectful behaviour to all and this is transferable outside of school in the wider community and beyond – Maple Tree children take part in groups such as the Scouts Association.
Children engage actively in the vocabulary associated with each unit.
Interviewing the pupils about their learning (pupil voice).
Pupil's books are scrutinised and there is the opportunity for a dialogue between teachers to understand their class's work.
Learning walks by SLT, the subject leader and link governor see children engaged in positive behaviour for learning in and out of the classroom.
Children in Year 4 and 6 participate in the annual SHEU survey – which will show a positive outcome by Year 6.
More children by the end of Year 6 will show good mental health and an ability to self-regulate.
Use of pupil voice/pupil survey to robustly measure the Whole School Mental Health approach.
National Curriculum PSHE programmes of Study
https://www.gov.uk/government/publications/personal-social-health-and-economic-education-pshe