Physical Education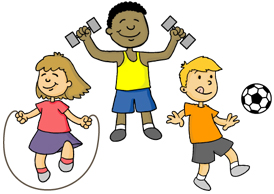 Physical Education (PE)
In Reception children have a separate PE lesson once a week, which this year is on a Thursday. The children are taken out by a Sports company who do basic skills and games with them. As part of the Early Years curriculum their physical development is also supported through the outdoor area, bikes, trikes, scooters, balls, bats etc, as well as through the write dance scheme where children's fine motor skills are developed.
In KS1 children have two PE sessions a week, one short and one long, and they are also taken out by the same Sports company who carry out similar activities focusing on developing these basic skills further rather, yet also teaching further skills for throwing, catching etc. In one of their PE lessons they will also be developing and performing in dance, gymnastics, and later on in the year children will be taught athletics and fielding and striking activities.
In KS2 children also have 2 lessons of PE a week, one of these is taught by the same company who look to develop the skills of the children further as well as introducing them to games and activities in which they can apply the taught skills. The second lesson is usually taught by the class teacher though this may also be taught by a specialist teacher from the Middle School.