Reception Fir Class
Welcome to Fir Class!
Hello, I'm Mrs Darnell, Fir Class Teacher. I have a passion for working in the Early Years, and have done for many years now. The children always brighten my day and bring a smile to my face, so I really do have the best job! I love to see the children follow their interests and learn new things through exploration, but also seeing the progress they can make through more structured adult-led activities. In Fir class we promote a love of learning which comes from both the bright and fun physical surroundings, and from the values that are shown from the children. We are very much a team and we all help each other.
Physical Education: As part of their physical development, the class will be taught PE each week. Every FRIDAY, the children will need to come into school dressed in appropriate clothing/footwear to match the weather, as they will be having P.E outside in the first instance.
Reading and Library:
Reading books are changed at the beginning of the week (Monday and Tuesday), and we ask that books are read three times before we change them. The first read will be in school. This helps to promote decoding, fluency and comprehension. Children will visit the library on a TUESDAY.
Fir Class are supported by Mrs Hampton and Mrs Hilditch for part of each day. Miss Gill and Miss Goodwin also work in Fir Class supporting 1:1. Mr Vine teaches the class on a Friday.
Class Info
The Early Years Foundation Stage (EYFS) is for children from 0 – 5 years old and has its own framework. At Maple Tree, we accept children from the age of 2. This includes our Mulberries Pre-school, for children aged 2-4, in their own purpose built building and a Reception class, Fir class, for children aged 4-5.
Our Foundation Stage has a teacher (Mrs Victoria Darnell) in Reception and a number of room/play leaders and teaching assistants across all 3 classes/rooms. Where necessary, there are additional learning support assistants for individual children.
Planning is thematic and differentiated to suit the needs of the children in the different classes/rooms. In the Early Years Foundation Stage, learning is undertaken both indoors and out and is based on learning through play with additional adult led focused activities and circle times to support learning.
Phonics
Below are links to various phonics resources, which will let you know how we teach letter formation, actions for all sounds, and some of the terminology used in phonics, as well as some ideas of activities that will help you support your child at home.
Forest School - for more information click here or use the tab at the side of this page.
Timetable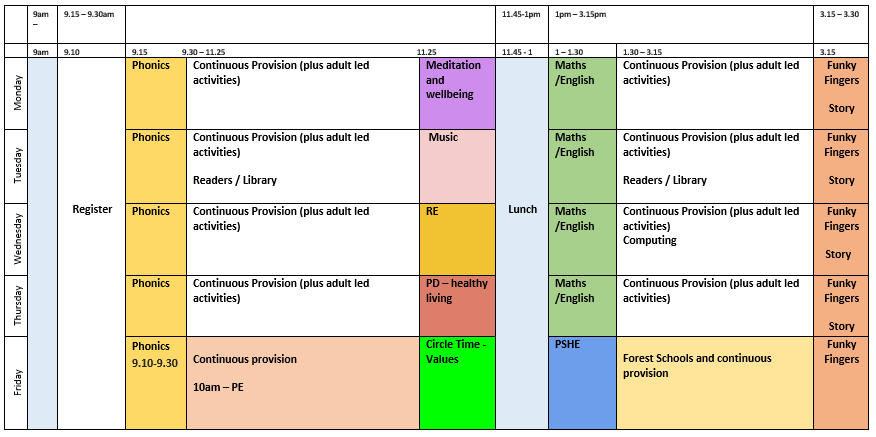 Meet the Teacher presentation
Please see below for the presentation that was shared with parents at our new to Reception session in July. This will give you an insight into how things run in Reception.
Yearly Overviews
Please visit our Curriculum Overview page to see what Reception are learning the year.