Science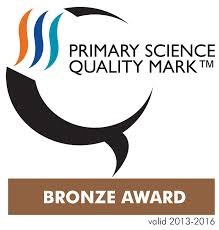 We are very proud that we achieved our Bronze Science Quality Mark Award.
Children are encouraged to observe, explore and investigate the world of science, so developing their understanding, knowledge and skills, so that they may increasingly apply these in further investigations.
Science teaching in KS1 enables pupils to experience and observe the world of science. They are encouraged to be curious and ask questions about what they notice. They are helped to develop their own questions and to find ways to answer them using simple scientific language.
In KS2 pupils are encouraged to broaden their scientific view of the world around them. Children are again expected to find anwers to questions they have by testing out theories and ideas and discussing their ideas once they have carried out these tests.
Across the school the children are encouraged to work scientifcally which draws out their responses to questions and allows them to develop through a mixture of practical work and use of secondary resources. Cross-curricular maths skills are also encouraged as children record their findings in a manner of different ways including charts and graphs.
Watch this space for further information about Science at Maple Tree.