Year 1 Yew Class
Welcome to Yew!
My name is Miss Wren, and I am so excited to be the teacher of Yew class, this year! Myself and the Year 1 team of Mrs Payne, Mrs Ramsay and Mrs Boddington are looking forward to creating exciting and engaging lessons and activities for the children's learning.
Our first topic is 'In the Deep Blue' in which we explore different aspects of oceans and coasts – this includes all sorts of great learning opportunities such as; fun fish artwork, ocean poetry, and great geography.
Our Spring term topic is 'Turrets and Tiaras' – delving into incredible history about castles, up until modern day royalty. There may even be a day fit for Kings and Queens at the end of this topic.
Our final topic, in Summer term, is 'Wild and Wonderful' – where we use our science knowledge to explore how things grow!
Each topic will help the children to explore different aspects of the world through their learning – I hope they are as excited about it as I am!
Class Information:
There are two classes in Key Stage 1 for children aged 5 – 7 (Yew and Aspen). There is one Year 1 class and one Year 2 class. Although they have their own curriculum they may sometimes join together for learning or assemblies.
Staff
The Key Stage 1 team consists of
Miss Wren - Year 1 teacher
Mrs Payne- Teaching assistant for Year 1
Mrs Ramsey - 1-1 learning support assistant for Year 1
Mrs Boddington - 1-1 learning support assistant for Year 1
Mrs Vickery-Cox - Year 2 teacher and Key Stage Leader
Mrs Leigh - Teaching Assistant for Year 2
Timetable
Click the image below to see Yew Class timetable.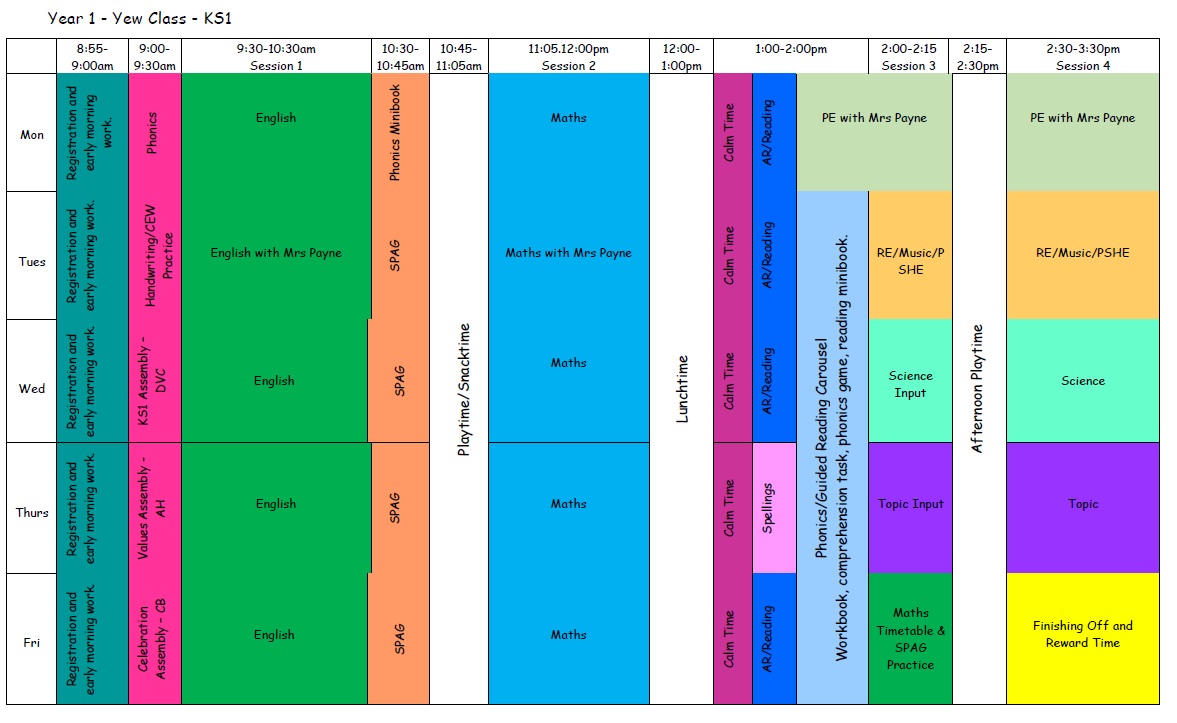 Meet the Teacher presentation
Please see below for the presentation that was shared with parents at our Meet the Teacher session in September. This will give you an insight into how things run in Year 1.
Termly Overview
Please click the link to see what Year 1 are learning this term.