Year 2 Aspen Class
Welcome to Aspen Class!
My name is Mrs Vickery-Cox, and I am thrilled to be the teacher for Aspen Class. With the support of Mrs Leigh we endeavour to teach the children in a supportive way to excite and inspire them with the learning across the whole year.
This first topic is 'Fire! Fire!' which has proven to be very popular with year 2 children. They are all still able to remember their learning at the end of the year which is just perfect. It is an exciting topic with special visitors who come to share and teach too.
In the Spring term our topic is 'Artists', and we will be learning all about famous artists and the country of their origin. The art that is produced in this term is always outstanding and beautiful.
We finish the year with 'Yum, Yum!' and we will be delving into healthy eating, exercise and the animal food chain. There may even be some fancy food tasting too! Each topic brings its own focus and excitement and a lot of fabulous learning from the children.
There are two classes in Key Stage 1 for children aged 5 – 7 (Yew and Aspen). There is one Year 1 class and one Year 2 class. Although they have their own curriculum they may sometimes join together for learning or assemblies.
Staff
The Key Stage 1 team consists of
Miss Wren - Year 1 teacher
Mrs Payne- Teaching assistant for Year 1
Mrs Ramsey - 1-1 learning support assistant for Year 1
Mrs Boddington - 1-1 learning support assistant for Year 1
Mrs Vickery-Cox - Year 2 teacher and Key Stage Leader
Mrs Leigh - Teaching Assistant for Year 2
Timetable
Click the image below to see Aspen Class timetable.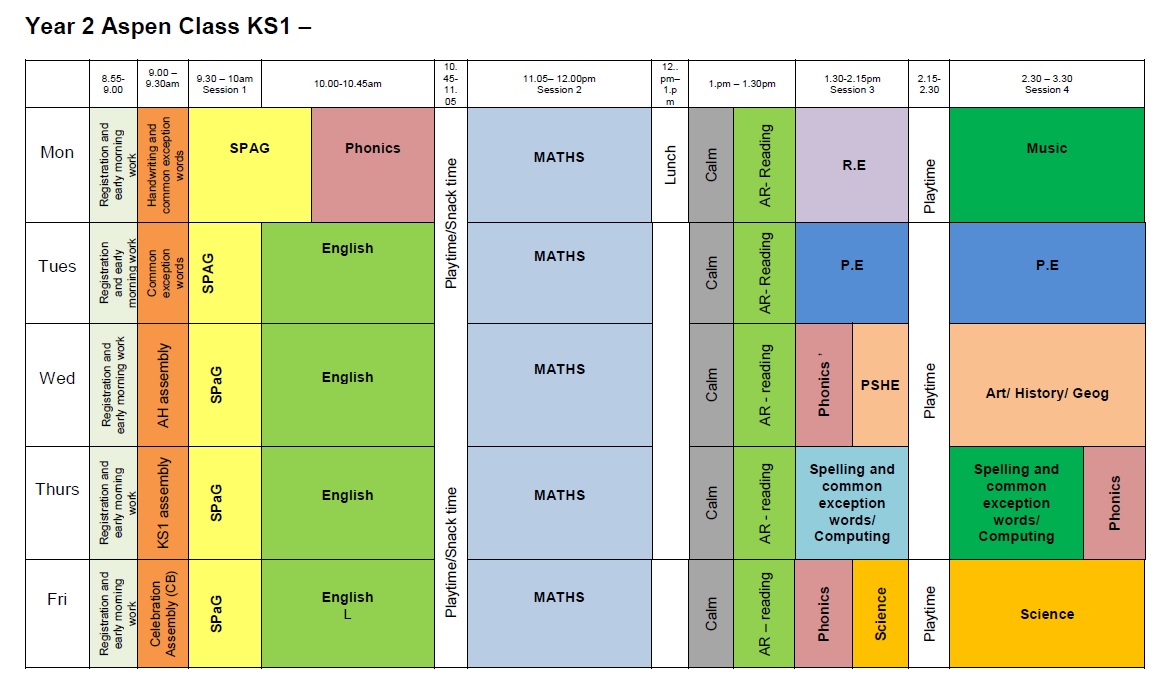 Meet the Teacher presentation
Please see below for the presentation that was shared with parents at our Meet the Teacher session in September. This will give you an insight into how things run in Year 2.
Termly Overview
Please click the link to see what Year 2 are learning this term.