Year 3 Rowan Class
My name is Mrs. Jacobs, and I am the Year 3 teacher, other adults that support Rowan Class are Mrs Keenan and Mrs Green. As a cohort of children, there is a strong sense of being a family, we work together, support and look after one another, but also have lots of fun! The children have been amazing and settled well into their routines and have returned from the summer holidays with a really positive attitude towards learning.
The first theme we are investigating is all about the Stone Age with the enquiry question, 'What was life like in Neolithic times?'. We have already found out some interesting facts and are looking forward to investigating further.
Should you have any questions or concerns please speak to me or contact me via teacher@mapletreeprimaryschool.com and I will endeavour to respond within 24/48 hours.
Year 3 is part of Lower Key Stage 2 (Years 3 and 4). There is one Year 3 class and one Year 4 class. Although they each have their own curriculum they may sometimes join together to learn or for assemblies.
Staff
The Lower Key Stage 2 team consists of
Mrs Jacobs - Year 3 teacher (Rowan)
Mr Renzi - Year 4 teacher (Poplar)
Mrs Green - teaching assistant
Mrs Keenan - 1:1 teaching assistant
Mrs Walker - 1:1 teaching assistant
Mrs Payne - HLTA (PPA cover)
Ms Cassidy - Key Stage Leader
Timetable
Click the image below to see Rowan Class timetable.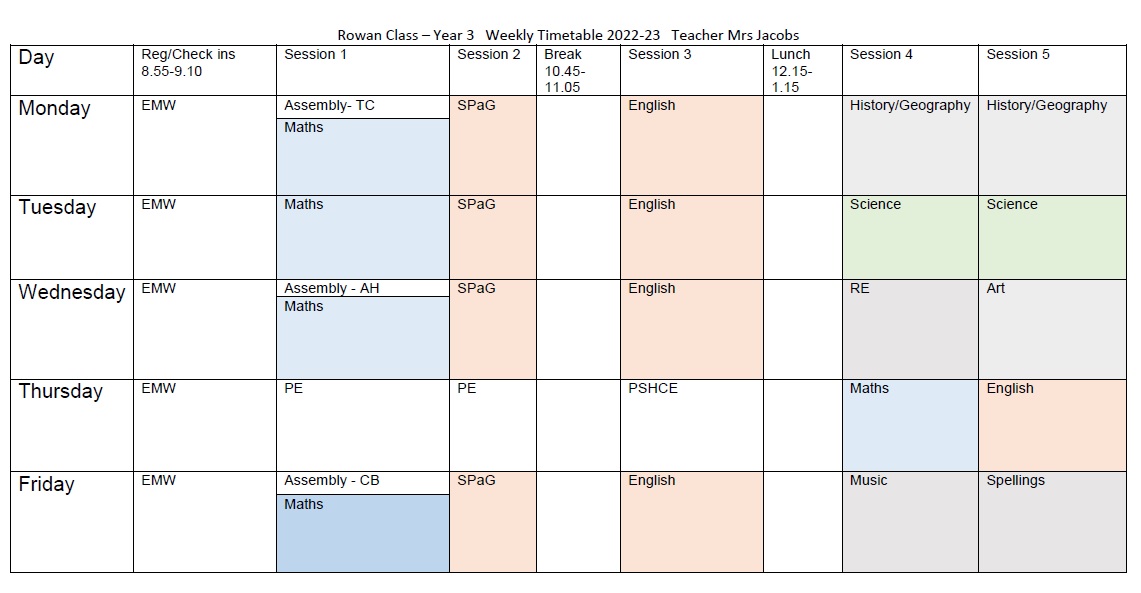 Meet the Teacher presentation
Please see below for the presentation that was shared with parents at our Meet the Teacher session in September. This will give you an insight into how things run in Year 3.
Termly Overviews
Please click the link to see what Year 3 are learning in the Summer Term.
Please click the link to see what Year 3 are learning in the Spring Term.