Year 5 Cherry Class
My name is Mr Neill and I have been teaching since 2014. My background is in sports coaching and outdoor activities, although I love all aspects of the curriculum.
My family hail from South Wales, however I grew up in Essex, and this is where I first began teaching. I believe strongly that children learn best when they are enjoying themselves, and I try to create a fun and engaging atmosphere within my classroom. One of my main goals as a teacher is to instil courage in children so that they do not fear failure (or fear trying and failing). I hope to support them so that they are able to throw themselves into a task and know that they will be able to learn valuable lessons from their mistakes.
I enjoy being active, reading (mostly science-fantasy books), and travelling to explore different countries and cultures.
Recently, I became a father and I also have a legion of nieces and nephews; family is very important to me and I try to visit my relatives as often as possible. I am so happy to be a part of the Maple Tree community, and I look forward to getting to know you better.
Our theme for the autumn term is Ancient Greece, which we will be link across the curriculum. We will be looking at the mystery and adventure of myths and legends in English, the gods and goddesses and some significant events, such as the Olympics, in history and the distinctive decorations and clothing of the Greeks in art.
In maths, the year will begin with place value and understanding digits up to 1,000,000 and later in the year perimeter and area, encouraging the children to develop their understanding and be able to apply their knowledge to reason and solve problems. It is important that the children still practice their times tables which they can do on TT Rockstars, which all the children have accounts for.
During this term the focus for science will be looking at the life cycles of living things, such as humans and plants, and how their habitats. There will also be a focus on how humans develop through the years to old age.
Should you have any questions or concerns please speak to me or contact me via teacher@mapletreeprimaryschool.com and I will endeavour to respond within 24/48 hours.
There are three classes in Upper Key Stage 2 for children aged 9 – 11: Juniper (Year 5), Cherry (Year 5) and Elder (Year 6).
Teachers plan using the national curriculum and differentiate the work within their class to suit the children's needs.
Staff
The Key Stage 2 team consists of
Mrs. Rowley - Year 5 teacher
Mr. Neill - Year 5 teacher
Miss Goodman - teaching assistant
Ms. Cassidy - Year 6 teacher and Key Stage Lead
Mrs. Daniels - SEND Teaching Assistant in Year 6
Mr. Vine - SEND Teaching Assistant in Year 6
Miss Hyde - Deputy Head Teacher
Mrs Payne - HLTA (PPA cover)
Timetable
Click the image below to see Cherry Class timetable.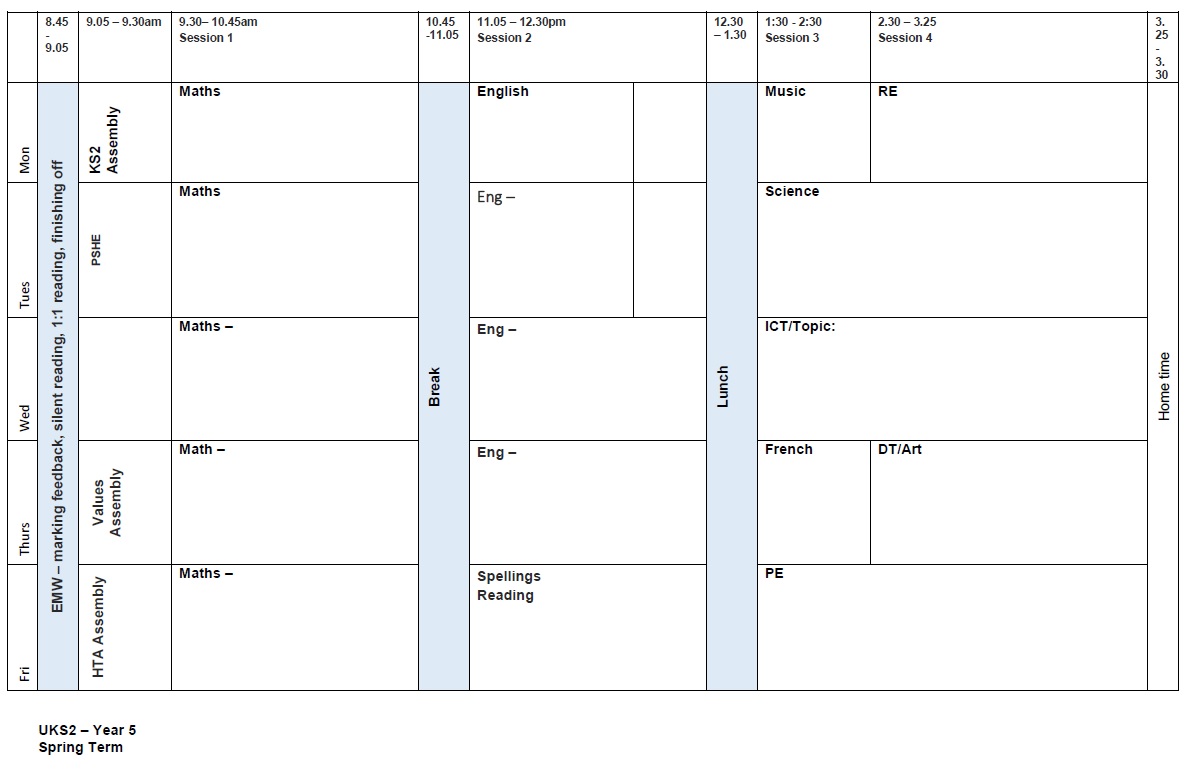 Meet the Teacher presentation
Please see below for the presentation that was shared with parents at our Meet the Teacher session in September. This will give you an insight into how things run in Year 5.
Termly Overviews
Please click the link to see what Year 5 are learning in the Summer Term.
Please click the link to see what Year 5 are learning in the Spring Term.