Year 5 Juniper Class
Welcome to Juniper class. In the classroom is myself, Mrs. Rowley (class teacher) and the children are further supported by our Teaching Assistant, Miss Goodman. It is going to be a fun but busy year learning about Ancient Greece and getting the children ready to move up to year 6 next summer. The children have all come back bubbling and looking forward to the year ahead which is really encouraging.
As mentioned, our learning for history in the autumn term is Ancient Greece and in geography we will be learning about the Alps. Other learning will be exploring the Tudors, our oceans, deserts and comparing the Maya civilisation to the Anglo-Saxons.
In maths, the year will begin with place value and understanding digits up to 1,000,000 and later in the year perimeter and area, encouraging the children to develop their understanding and to be able to apply their knowledge to reason and solve problems. It is important that the children still practise their times tables, which they can do on TT Rockstars, which all the children have accounts for.
During this term the learning focus for science will be looking at the life cycles of living things, such as humans and plants, and how they all live in their habitats. There will also be a focus on how humans develop through the years to old age.
Should you have any questions or concerns please contact me via the teacher email address (teacher@mapletreeprimaryschool.com).
There are three classes in Upper Key Stage 2 for children aged 9 – 11: Juniper (Year 5), Sycmore (Year 6) and Elder (Year 6).
Teachers plan using the national curriculum and differentiate the work within their class to suit the children's needs.
Staff
The Key Stage 2 team consists of:
Mrs. Rowley Yr5 teacher
Miss. Goodman UKS2 teaching assistant
Mrs. Walker 1:1 SEND teaching assistant
Mr. Neill Yr6 teacher
Ms. Cassidy Yr6 teacher and Key stage leader
Mrs. Daniels UKS2 teaching assistant
Timetable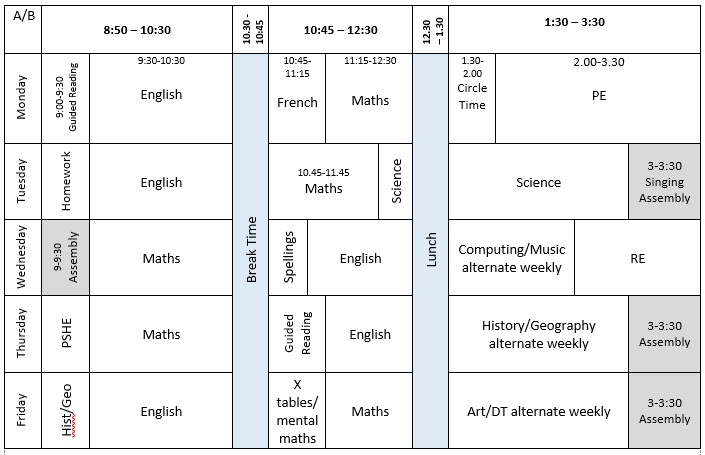 General Housekeeping
P.E: Juniper have P.E on a Monday afternoon. Please ensure your child has a full, named P.E kit. Long hair needs to be tied up and jewellery is removed.
Spellings: Weekly spellings will be given out on Wednesday and the children tested the following Wednesday. The spellings are different every week and will be stuck in their green books.
Reading: All children are expected to read their reading book for at least 20 minutes, five times a week. Please record this in their homework diary. It is your child's responsibility to take AR quizzes in order for them to reach their targets each term.
Homework: Year 5 will receive a maths and English homework every Tuesday. It is due back the following Tuesday.
Homework diaries: Homework diaries are for children to record any homework and reading that they receive/do, key dates and reminders. We do ask that a parent/carer signs the diary weekly to confirm that your child has read the amount that they have recorded. The diaries are also a way of communicating with me, as most of the children walk to and from school on their own and I do not regularly see you.
Meet the Teacher presentation
Please see below for the presentation that was shared with parents at our Meet the Teacher session in September. This will give you an insight into how things run in Year 5.
Termly Overview
Please click the link to see what Year 5 are learning in the Autumn Term.