Year 6 Elder Class
My name is Ms. Cassidy, and I am the year 6 teacher. Elder class is also supported by Mrs. Luzerri, Mr. Vine, Mrs. McGrath and Mrs. Longworth. Miss. Hyde also teaches some lessons in Elder.
This is an important year for our amazing children, as it is their last year in primary school. Throughout the year we will be revising work already taught through the key stage for SATs in May. However, we will also be building our resilience, and readiness for secondary school.
This year I will be supporting the children to really engage with their independence and lots of their learning outcomes will be their own creations – for example a presentation to their peers or publishing their work in class books.
The first theme we are investigating, 'How has WWII impacted on the society of the UK?' during our history lessons. Other themes through the year are based on geography and history.
Should you have any questions or concerns please speak to me or contact me via teacher@mapletreeprimaryschool.com and I will endeavour to respond within 24/48 hours.
There are three classes in Upper Key Stage 2 for children aged 9 – 11: Juniper (Year 5), Cherry (Year 5) and Elder (Year 6).
Teachers plan using the national curriculum and differentiate the work within their class to suit the children's needs.
Staff
The Key Stage 2 team consists of
Mrs. Rowley - Year 5 teacher
Mr. Neill - Year 5 teacher
Ms. Cassidy - Year 6 teacher and Key Stage Lead
Mrs. McGrath - SEND Teaching Assistant in Year 6
Mr. Vine - SEND Teaching Assistant in Year 6
Miss Hyde - Deputy Head Teacher
Timetable
Click the image below to see Elder Class timetable.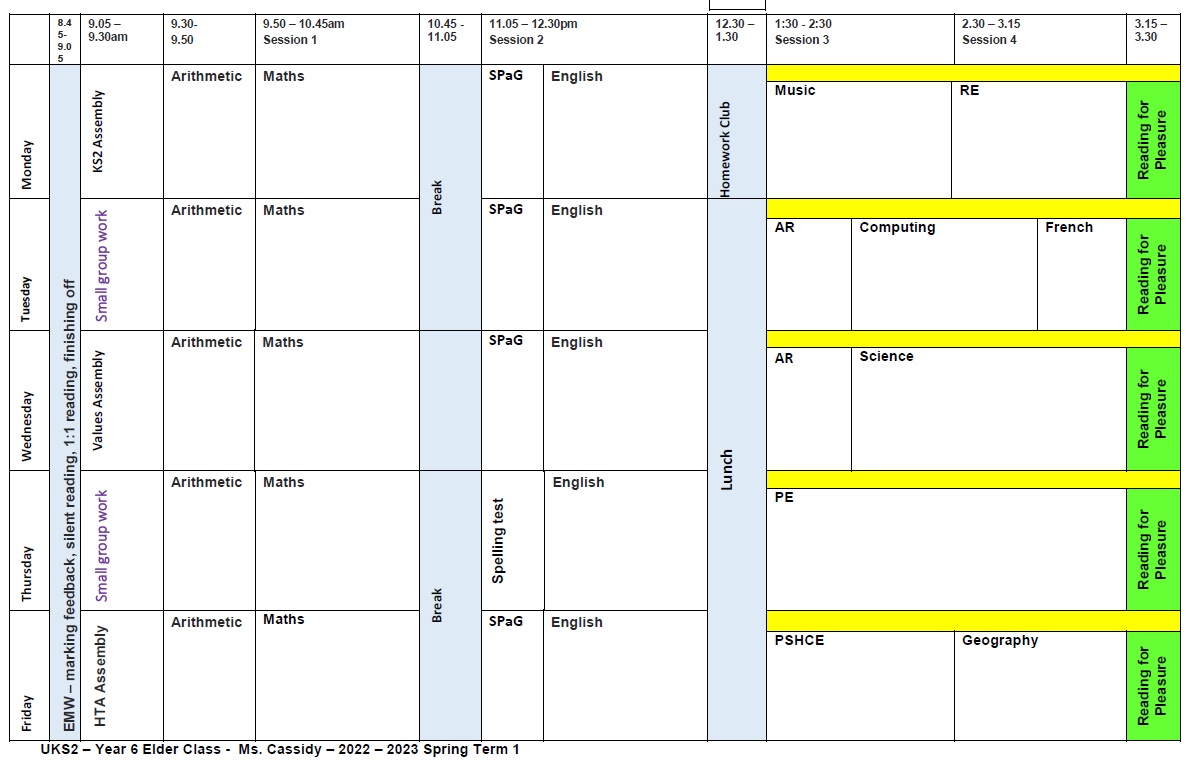 Meet the Teacher presentation
Please see below for the presentation that was shared with parents at our Meet the Teacher/SATs Preparation evening in September. This will give you an insight into how things run in Year 6.
Termly Overview
Please click the link to see what Year 6 are learning this term.