English
INTENT
Through our English curriculum, our intent is to encourage children to become enthusiastic and engaged with English to develop a love of reading and to teach the children the importance of speaking, listening, reading and writing skills in the real world. By giving children the context to learning, they will understand the value of English to them now and in their futures.
We aim to inspire an appreciation of our rich literary heritage and a habit of reading widely and often. We recognise the importance of nurturing a culture where children take pride in their writing, can write clearly and accurately, and adapt their language and style for a range of contexts. Our skills based English curriculum supports this by providing purposeful opportunities for reading, writing and discussion; this is closely monitored by the English Lead to ensure a full and balanced coverage.
We provide our children with rich and varied learning opportunities to develop a positive attitude towards communication and for children to be able to express their emotions and their ideas confidently and articulately. We endeavour to make English interesting and exciting, engaging the children with the joy and wonder of books, providing a real purpose for writing and piquing their imagination and creativity.
We want all of our children to be capable readers, writers, spellers and speakers, who can transfer their English skills to other curriculum areas and who are prepared for the next phases in their education.
IMPLEMENTATION
Reading
We use a variety of reading materials in KS1, including Twinkl Phonics and phonics-linked Bug Club Books.In KS2, we use the Accelerated Reader (AR) system which challenges children to read and complete quizzes in order to achieve their reading targets. There are a huge variety of texts and authors included on the AR system ranging from Michael Morpurgo, David Walliams and Roald Dahl. The children are heard reading individually and in groups. The guided reading sessions cover both fiction and non-fiction books. Guided reading also develops the children's comprehension skills. A range of ICT programmes are used to enhance learning, like AR. For more information please see the 'Parent Guide to AR' below.
Writing
Writing is not a subject; it is part of reading, speaking and listening. Being a writer means being a reader, articulating stories and characters, listening to tales and learning from other writers. Through teaching exciting and engaging lessons you can help children to discover stories, create worlds, record events, mould characters and inspire each other as writers.
We develop writing skills so that our Reception pupils have the stamina and ability to write simple statements and sentences. To support children in moving towards independent writing we provide a wide range of activities including use of film and imagery, modelled, shared and guided writing, peer editing and discussion. We use talk for writing to encourage pupils to express their ideas, exchange ideas and to develop more sophisticated vocabulary. We provide opportunities for writing for purpose, and we encourage pupils to see themselves as authors. We promote the status of written work by providing opportunities for children's writing to be published in class books and on the school website. A range of extra activities are used to promote literacy within the school including World Book Day.
Handwriting
Handwriting is taught as a discrete lesson but then is reinforced during all written activities. Children begin with letter formation in Reception, pre-cursive in year and cursive script in KS1. In KS2 are awarded pen licences for continuously joined and neat handwriting.
Phonics and Spelling
In the EYFS and Key Stage 1, we ensure that our children receive high quality Phonics teaching every day. Phonic awareness helps the development of reading by segmenting and blending sounds. We use the systematic synthetic phonics programme Twinkl Phonics. This progressive approach ensures that our children are well-placed to read and spell words with fluency and confidence. More information can be found for parents here or please see the powerpoint presentation below. Information about the Year 1 Phonics Screening Check can be found on our Assessment page.
Following on from phonics, spelling is taught using Twinkl Spellings. Children receive a weekly list of spellings to practise at home.
Please click the image below to read our English overview: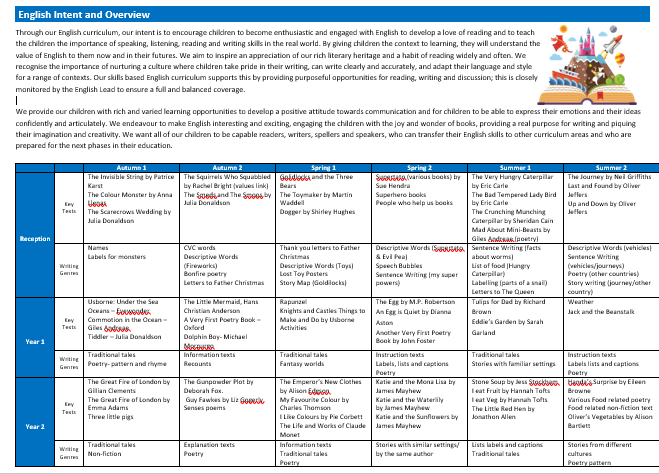 IMPACT
Our English curriculum is high quality, well-thought-out and is planned to demonstrate progression.
We measure the impact of our curriculum in the following ways:
1. Assessments show us how well the pupils have understood the knowledge and skills taught and how well they are able to apply them. Assessments show us where a child's attainment is in relation to the national average and how much progress they are making.
Statutory Assessments in key year groups: Early Years Profile, at the end of Reception; Phonics check, in year 1; KS1 SATs, at the end of year 2 and KS2 SATs, at the end of year 6.
End of year assessments: Reading STAR tests (using AR system) and Progress Tests in English (GL assessments).
Yearly writing assessment with 'Assessing Primary Writing'
Ongoing writing assessments, moderated in house and with local schools.
Weekly spelling tests
Informal teacher assessments throughout lessons through quizzes and questioning.
2. Monitoring shows us evidence of the implementation. We do this through pupil voice, learning walks and work scrutiny.
Pupils share their views on their learning with leaders through focus groups and surveys.
Subject leader visits lessons termly to monitor learning and progress.
Subject leader reviews English books, reading records and other evidence to monitor learning and progress.
3. Engagement with whole school events.
Pupils engage with whole school events such as: National Poetry Day Competition, Readathon and World Book Day.
Parent events are well attended e.g. the book fair, reading workshop and phonics workshop
Parents can talk confidently about supporting their children at home.
English clubs are well attended.
Please see our English progression grid below.
National Curriculum English Programmes of Study: https://www.gov.uk/government/publications/national-curriculum-in-england-english-programmes-of-study/national-curriculum-in-england-english-programmes-of-study