Year 4 Poplar Class
My name is Mr. Renzi and I am excited to be the teacher for Poplar Class this year. I am joined with Mrs Green in order to support the children and help them with their learning this year. We hope that we will be able to excite and inspire the children through a variety of themes throughout the year. If you have any questions at all, please feel free to speak to us at the door or email me via teacher@mapletreeprimaryschool.com and I will endeavour to respond within 24/48 hours.
Our first theme is all about the Romans. We explore how the Romans have had a profound impact on our lives and we will explore the local history of Sandy. We then move across the world to investigate our next theme, 'Riotous Rainforests'. Within this theme, we will explore this ecosystem by discovering animals, plants and ancient tribes. We will finish the year with 'Invaders and Settlers' by looking at how vicious the Vikings were. This has proven to be an exciting and engaging theme, ending a fantastic year on a high! Each theme brings its own focus and excitement and a lot of fabulous learning from the children.
Year 4 is part of Lower Key Stage 2 (Years 3 and 4). There is one Year 3 class and one Year 4 class. Although they each have their own curriculum they may sometimes join together to learn or for assemblies.
Staff
The Lower Key Stage 2 team consists of
Mrs Jacobs - Year 3 teacher (Rowan)
Mr Renzi - Year 4 teacher (Poplar)
Mrs Green - teaching assistant
Mrs Keenan - 1:1 teaching assistant
Mrs Walker - 1:1 teaching assistant
Mrs Payne - HLTA (PPA cover)
Ms Cassidy - Key Stage Leader
Timetable
Click the image below to see Poplar Class timetable.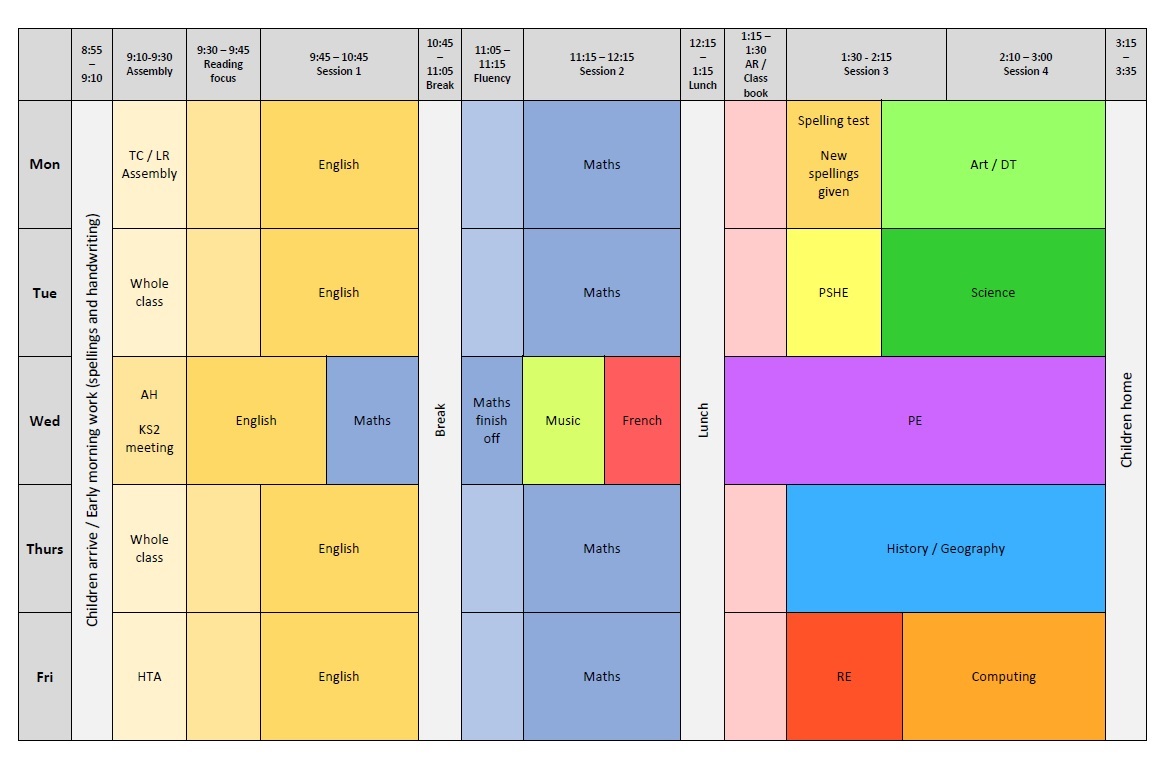 Meet the Teacher presentation
Please see below for the presentation that was shared with parents at our Meet the Teacher session in September. This will give you an insight into how things run in Year 4.
Termly Overviews
Please click the link to see what Year 4 are learning in the Summer Term.
Please click the link to see what Year 4 are learning in the Spring Term.